New toy camera from the makers of Transformers!!!
---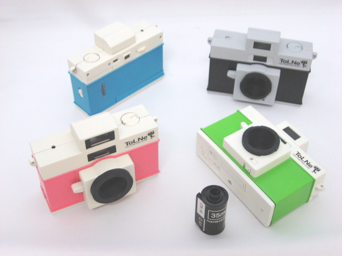 From Transformer creators Takara Tomy comes a new toy geared towards women in their 20s, these colorful, cubic, 35mm plastic cameras called "Tolne." (A play on the phrase "toru ne" which means "I'm gonna take your picture, ok?") It comes with cool filter sets that let you take pictures that look like they're part of a movie reel, or put your face inside a pink heart. You can choose from frames like "dramatic frame" or "deform" or "cross light." They're cheap plastic and cost only US$35 (S$50), but they'll produce some of the most fun photos you've taken in a long time.
They come out November 29 in Japan.
---
Information from a variety of sources:
gizmosinsight
coolest-gadgets
Shiny Shiny
Tokyo Mango
Quick look at their official press release.. If you can read Japanese that is. Still.. The frames are kinda cute.. Except the heart heart one.
CLICKIE